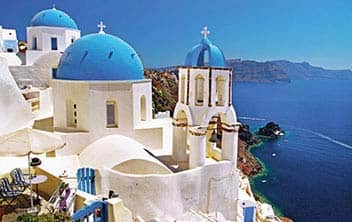 Santorini, Greece
I first fell in love with Santorini by the enchanting royal blue waters and white buildings from Keeping Up With The Kardashians. The blue and the white together just made me melt inside. Now of course because of what I said earlier about never traveling before in my life, I honestly don't have a clue about Santorini or what you could do there or anything like that. However, I also believe that's what makes this all seem so exciting to me. The mystery. Not entirely knowing what to expect when I step off that plane and seeing these massive white and blue buildings on that cliff. After all, life is an adventure, and one day I hope to go on a wanderous adventure in Santorini.
Le Mont Saint Michel in Normandy, France
Talk about magical! Now this place is where a princess should really live. I learned about Le Mont Saint Michel in French class in the ninth grade. I remember my teacher showing us so many pictures from when she used to live in France for a few years. She told us about how since it's an island, visitors couldn't visit at high tide because, well obviously, the walkways were all flooded. Ever since that day it was my dream to go there. But of course my first question was, "Madame! Can people get married there?" Thankfully, she said she's pretty sure you can. If not, at least get it in the background.